Con este premio Glee se apunta uno más a su lista de éxitos y reconocimientos por parte de la crítica. Seguimos viendo que esta serie no sólo está marcando tendencia en el ámbito de la televisión sino también en el de la moda. Basta ver la cantidad de estilos que sus personajes han inspirado; además los actores y actrices derrochan estilo en cada aparición pública. Esten bien atentos todos porque estos chicos seguirán dando de qué hablar, para bien, afortunadamente.
This award and the acclaim of the critic is one more success to Glee. This is the IT show, and a trendsetter in the showbiz and now in fashion. The characters inspired a lot of styles, just like the actress and actors in every public appearences.Keep your eyes open, this cast will be in the spotlight for a long time.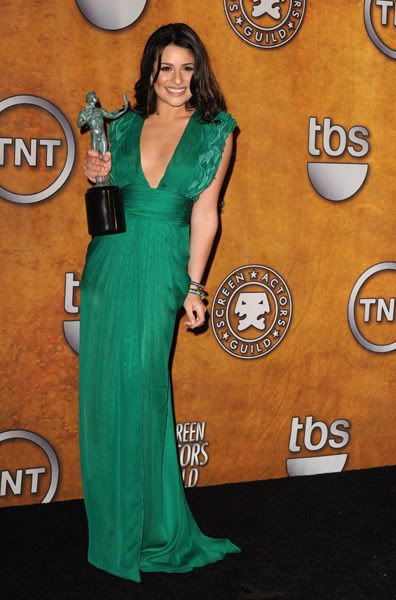 Lea llevó este precioso vestido verde de
Catherine Malandrino
con super escote, marcado en el talle y mangas con olanes y joyería de
Tiffany & Co.

Lea wore this beautiful gree dress by Catherine Malandrino, tight in the waist and ruffley sleeves. Tiffanny & Co. jewlery
.
Amber luce su curvas en este vestido blanco entallado, zapatillas con aplicación de olanes y clutch dorado con relieve.

Amber looks astonishing and shows her curves in this white dress, golden clutch and peep toes with ruffles.
Dianna parece una diva clásica con este vestido blanco de capas y lazo negro en la cintura, aplicaciones en el escote y clutch negro.

Dianna looks like a Hollywood diva here, she wears a white dress with black ribbon in the waist, and black clutch.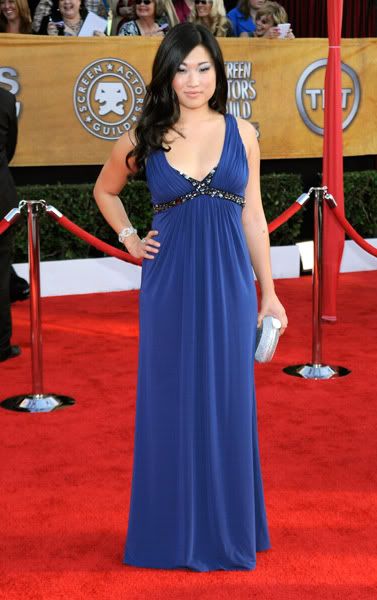 Jenna ha lucido ultimamente looks muy sencillos pero muy elegantes, aquí se ve como una diosa griega en azul, con vestido escotado en cuello de v, pedrería en el escote. Brazalete de eslabones y bolsito de mano redondo.

Recently Jenna wears a very simple, but elegant look. Here looks like a greek goddess in blue. She wore a pretty halter dress , with sparkles in the neck line. Bracelate with chains and rounded clutch.
Este fue uno de mis vestidos favoritos. Jayma Mays se ve encantadora en este vestido rojo con escote de corazon y talle plisado, bordado en la cintura y bolsito con aplicaciones de pedrería.

I love this dress!! Jayma looks classy and sweet in this strapless red dress, embroidered in the waist sand clutch with applications.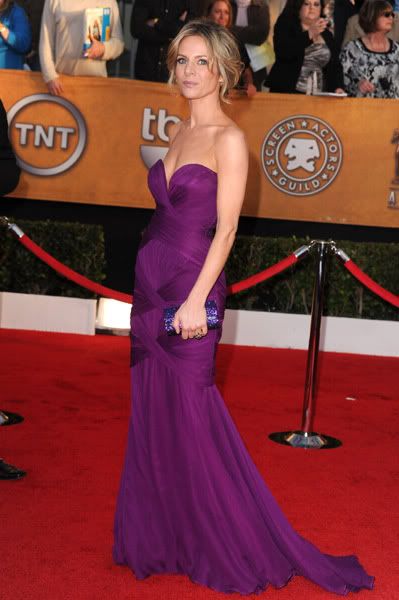 Jessalyn llevó un vestido strapless color morado, de talle ajustado y cola, traía un clutch azul encendido con destellos.


Jessalyn wore a strapless dress in purple, tight and wrapped. Blue clutch with sparkles.
Jane fue la única que no llevó un vestido entubado y en cambio lució este de falda amplia y lazo en el escote. En los Golden globes también se veía maravillosa con un vestido de corte similar.

Jane looks awesome in this big blue dress, i wonder why the other girls wore tube dresses only, anyway, i love Jane´s taste, i like her dress at the Golden globess too, this time she wears this with strapless, big skirt and ribbon in the neck line
.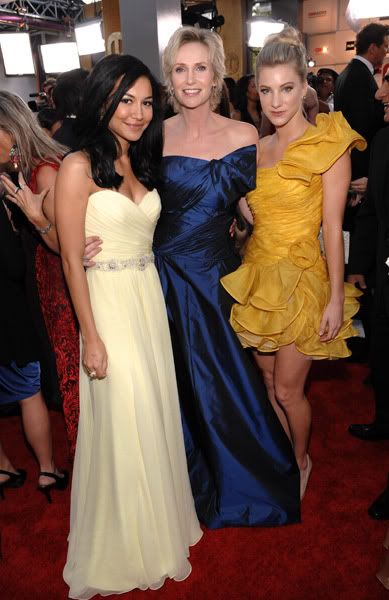 Veredicto de vestidos favoritos para mi: 1.-Jayma, 2.-Jane 3.-Dianna
This is my top 3 of dresses: 1.-Jayma´s dress 2.-Jane´s and 3.- Diana